Overview
Specifications
FAQ
Download
Overview
Specifications
FAQ
Download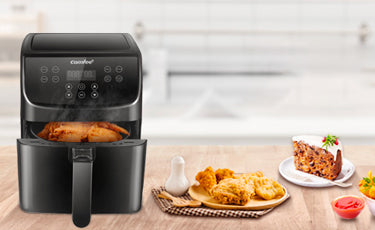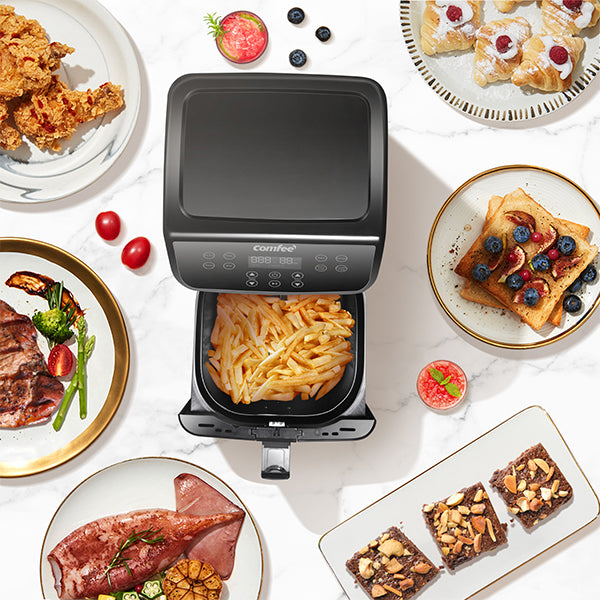 COMFEE' 5.8Qt Electric Hot Air Fryer Oven Cooker
The Easy to Use Oil Free Air Fryer Can Replace a Deep Fryer, Microwave Oven, Frying Pan, Toaster and Grill. An Amazing Approach Towards a Healthier Life!
Reduce 90% oil but get food healthier, crispy on the outside, tender on the inside results.
1700W 5.8Qt Detachable Square Non-stick Basket(BPA Free). The large air fryer can serve 3 to 5 people.
8 Preset Multi-functions. You can DOWNLOAD electronic recipes under technical specifications of the product page on Amazon.
Adjustable Time & Temp with Shake Reminder. Shake (flip) once halfway through cooking to ensure even fry.
A large beveled LED digital touchscreen for easy operation and control.
Sleek and modern design saves space on your counter and in your cabinet. Perfect for any kitchen, dorm, office, RV and more!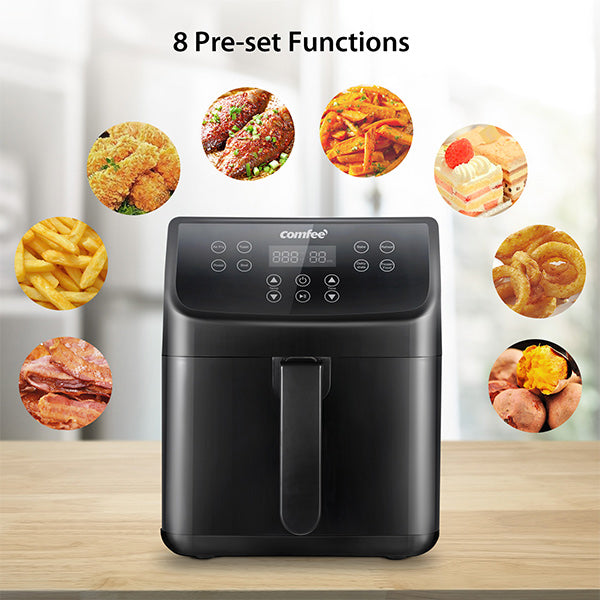 8 Pre-set Functions
The air fryer is easy to use with 8 preset functions. It can meet a variety of taste needs with our electronic recipes.You can also find some videos of getting started from youtube and recipes from pinterest. Become your own personal chef!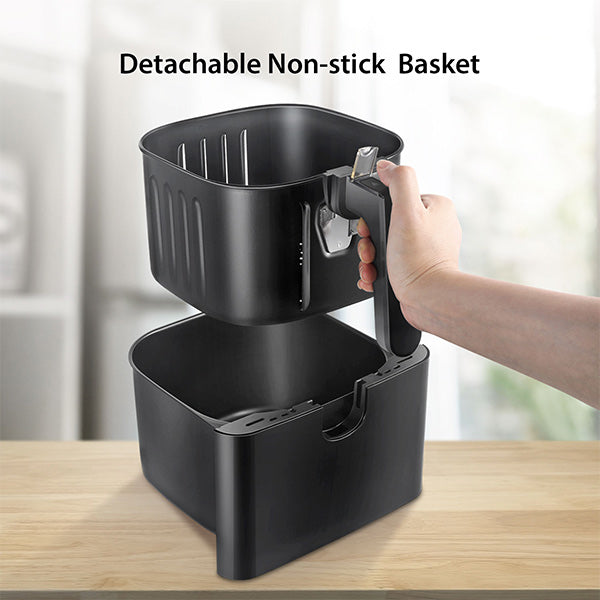 Detachable Non-stick Basket
The detachable non-stick basket makes it easy to separate and clean. The nonstick surface of the basket results in less residue being left behind. NOTE: DON'T press the button before setting on the flat countertop!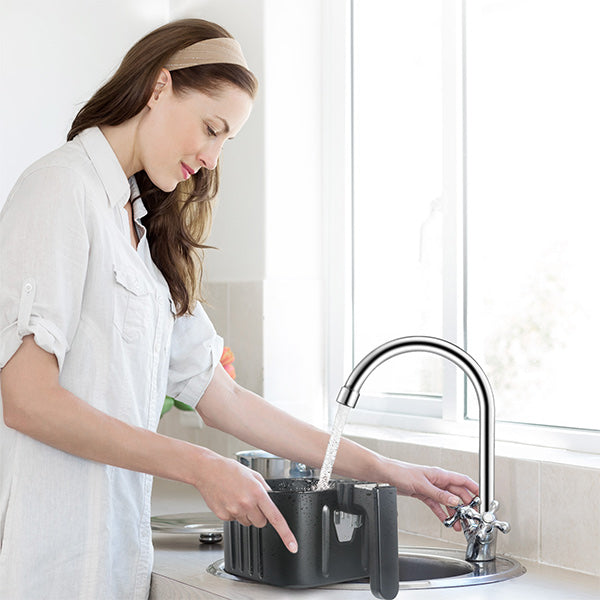 Easy to clean
Frying food does not have to be a messy process. Detachable Non-stick basket makes cleaning a breeze and make sure to use soft sponges and cloths to keep the air fryer in great shape.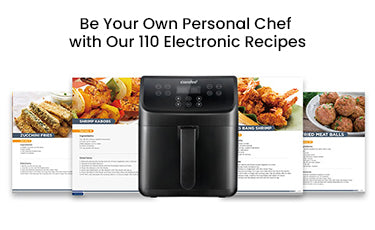 Specifications
| | |
| --- | --- |
| Model | CFY55T6ABB |
| Capacity | 5.8 Quarts |
| Color | Black |
| Item Weight | 11.3 Pounds |
FAQ
Is it dishwasher safe?
This appliance is not dishwasher safe.
What are the interior inside dimensions of the inner cooking basket, at the bottom (inside bottom of the inner basket that the food goes in)?
The detachable inner basket's dimensions are approximately 8 1/4" x 8 1/4". (BBB A+ Accredited Business)
Other brand air fryers have some plastic smell, does this have?
Anything that has a heating element new from the factory will outgas little smell when initially turned on, called ""new product"" smell. So we recommend that if you receive it, you can wash the components according to the instructions. Take it out to your garage or on your patio/porch to fire it up for the first time. Run it for about 20 minutes at 390 degrees. After that, the plastic smell should be good to go. Please do not worry about the healthy when you use our air fryer, all the material are safe and tested by the accredited labs.