The holidays come and go and as hosts of Christmas and New Year's eve parties, you are always on the lookout for new creative ideas to surprise your family and friends when they approach the festive dining table.
One of these traditional drinks that have been forgotten in many households is mulled wine. Mulled wine is always linked to good health, warm friendships, and happiness. These are all positive attributes that have the Christmas spirit in them.
The connection of mulled wine to the Holidays emerged in the Victorian period in England. It was seen as a sophisticated drink to enjoy for the Christmas season.
The best red wines for making mulled wine should be fruity, dark, and full-bodied. Traits that will make them support all the flavors we will be adding in.
To make the process easier for you, it is recommended that you use an electric kettle when making mulled wine at home.
How to Make Mulled Wine at Home👩‍🍳
Ingredients:
3/4 gallon of affordable wine
1 lemon
1 orange
3 sticks of cinnamon
1 cup of cloves
18 ounces of sugar, but can be varied to your taste
Cooking Equipment: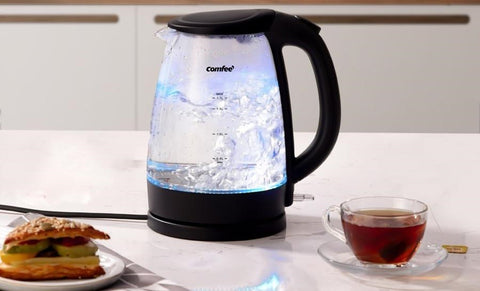 Directions
1) Pour your wine into the Comfee glass electric tea kettle.
2)The orange and the lemon are then decorated with cloves. A convenient way of doing this is by getting a fork and prick holes into the orange and lemon skins. Then push the cloves in.
3) The decorated orange and lemon, together with 3 sticks of cinnamon, and part of the sugar, are then dropped into the wine.
4) Turn on the Comfee glass electric kettle and let the mixed wine heat slowly. Just make sure it doesn't reach the boiling point or no alcohol content will be left.
5) Sip once in a while to taste the sweetness level. If not up to your taste, add more sugar and stir until it dissolves.
6) Final step, serve your wine in mugs with your favorite garnishes!